Are you tired of living paycheck to paycheck? Are you committed to moving from surviving to thriving? Circles of Cashiers-Glenville stands ready to help you achieve your goals if you decide to become a Circles Leader.
Circle Leaders are motivated to find and maintain full-time employment and learn how to become financially self-sufficient. As a Circle Leader, you will set your own goals and develop your own plan to achieve financial self-sufficiency. Volunteers from the community partner with Circle Leaders as you work toward meeting your goals.
Leadership training, meeting attendance, communication, and hard work are required. By becoming a Circles Leader you are taking a stand to do whatever it takes to move to a place where you have enough resources and friends in your life to feel successful.
The Circles model is a unique approach to help you become financially stable. You will receive training on finances, employment, health, and communication skills. But what really makes Circles different are the relationships you will form. We match you with two middle-income or upper-income volunteers.
The path to financial self sustainability is easier when you have a circle of support.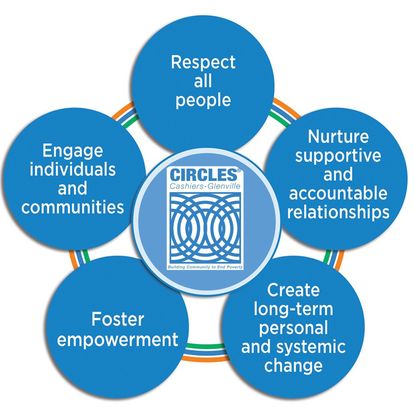 Circles will help you:
Become financially stable
Share your story and be understood
Use your gifts and skills
Improve communication and time management
Be recognized and respected for who you are
Have a bigger voice in your community
Become a better role model for your kids
Set goals, make progress, and achieve results